Filler cap and fuel hose kit for CFC Unit
Nuke Performance

---
Aluminium nut ring with M6 bolts
---
Reviews
Help others choose right. Be the first to write a review!
Write a review
Filler cap and fuel hose kit for CFC Unit
Aluminium nut ring with M6 bolts
The Nuke Performance Remote quick lock filler cap for 50mm (2") fuel filler hose, for all motorsports, and aftermarket fuel cells.
Featuring a lightweight design, quick lock mechanism, and a 5-bolt pattern, this filler cap is the ultimate solution for easy, secure installation on your aftermarket fuel cell or Nuke Performance CFC Units. With just a 90-degree turn, you can lock and unlock the cap with ease.
Quick lock filler cap, with a 90-degree lock mechanism
50mm (2") anti-static nylon fuel filler hose
Extremely lightweight and flexible fuel filler hose
Universal fitment for your motorsports build
Safe for all types of fuels, including alcoholic fuels
Kit fits straight onto a CFC Unit equipped fuel cell
Nuke Performance Filler cap and fuel hose kit include:
1 x Filler cap body with barb connection for 50mm (2") hose
1 x Sealed and spring-loaded quick-locking filler cap
1 x Safety wire kit for M6 application
1 x Viton gasket, safe for all types of fuel
1 x Nylon corrugated fuel filler hose (90cm / 3ft)
2 x Viton bushings with an internal diameter of 50mm (2")
2 x Stainless steel hose clamps
1 x POM clamp insert (used if the hose is cut into length)
5 x K6S M6x12 stainless steel bolts
1 x Aluminum nut ring *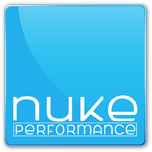 ----------------
Guides & Info
Be first to write a review about this product!
Your review:
To send a review, you must be logged in.