Bosch 1300cc Injector
These are Bosch 1300cc modified short body injectors with long tip (xT) which means flexibility as they can both be used with short length body, standard length body or long body. which can be read about further down.
Technical specifications:
- Name: 1300cc
- Resistance: 12 ohm.
- Spray pattern: 15 degree conical
- Injector nozzle: long (xT)
- Connector: Standard Bosch EV1 JPT Minitimer Jetronic
- O-ring seals made of Viton.
- E85 / M100 compatible and can withstand other common fuels due to the stainless steel internal parts. NOTE! if the injector is to be used with methanol, it must be flushed with gasoline after use.
- Injector flow can vary. Add flow matching if you want a matched set with injectors.
- Part number: 0 280 158 xxx
- Reference numbers: 0280158xxx, EV-14
- Price per injector
Static max flow
Static max flow @3 bar is about 1300cc.
Flow increases with fuel pressure as any injector.
Note that the test environment versus practical use can have various results depending on peripherals and other technical factors. However, this is very good info on what to expect from the injectors and can be used as basic information when choosing other components for the fuel system such as fuel pump, fuel pressure regulator and fuel filter.
Bosch 1300cc physical size
Bosch 1300cc is a modified Bosch injector with a compact body (Compact 33,6mm) and extended tip (xT)
The injector comes with adapters included
this top adapter and this bottom adapter
This gives you the Bosch long body (Long 60.65mm) or the Bosch Standard body (Standard 48,65mm)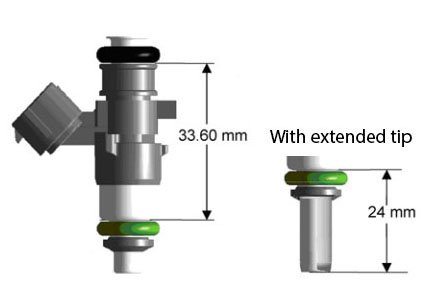 Bosch Injector length comparsion:
An illustration to compare the different sizes of injectors. The size is measured between the o-rings if you want to check the length of your existing injector.
Some injectors (not this one) have an extension (xT) from the lower o-ring measuring 24mm. This can be inserted to the intake manifold or rebuilt with the help of a lower adapter to get the standard 11mm protrusion.
Bosch injector length video:
Flow Matching:
These injectors are delivered directly with factory tolerances unless you choose to match those with much less tolerances than factory. Choosing to match the injectors with our top of line machines before delivery will get the matching much more correct, we always recommend if you do that. Or you can choose to drive them unmatched with greater tolerances, match the injectors themselves or compensate for the diffusers to divert slightly in flow when mapping the ECU system. How much they differ from the factory always vary.
When you choose to match the injectors, this is done with our top equipment! Documentation and certificates from us are included with the injectors when you choose this option.
Bosch original
We use Bosch original incectors because our customers demand reliability. Injectors can be tested by entering the digits on the box in an online test page for control.
----------------
Guides & Info
Är nöjd med dessa spridare och dom har aldrig strulat eller varit svåra att ställa in fin tomgång eller liknande för mig trots några års användning med E85.
Jag kör Bosch så vet jag att det blir bra. Fick info om vilken storlek jag skulle ha när jag ringde supporten.
Fungerar kanon! 493hp i en vitfyra.
Fick svarva ner nedre hylsan lite för att få i de i insuget på ca18, spridarna i sej värkar funka bra, kör E85
De har fungerat bra. Kör E85. Andra säsongen nu, Jag köper märkesdelar så lirar det :)
Dessa har fungerat riktigt bra på bilen från dag ett. Jag kör på E85 men blev rekommenderad av Speeding att köra på Redline SI alcohol. Så jag har gjort det sedan dag ett också. = inga problem.
Your review:
To send a review, you must be logged in.