GTX3076R GEN 2 Garrett 0.63 T3 / V-band
Garrett

---
• 400 - 750 hp • 1.8 - 3.0L
---
Reviews
Help others choose right. Be the first to write a review!
Write a review
GTX3076R GEN 2 Garrett 0.63 T3 / V-band
Horsepower: 400- 750- Displacement: 1.8L - 3.0 L
GEN 2 AERODYNAMICS FEATURE INCREASED HORSEPOWER RANGE
IMPROVED PORTED SHROUD DESIGN FOR SURGE RESISTANCE
NEW FULLY MACHINED SPEED SENSOR PORT.
SOLD AS ASSEMBLY KITS (SUPER CORE + TURBINE HSG)
Reference Data
The latest Garrett technologies featuring many advanced features.
Garret GTX vs GT series
Honeywell Garrett, is excited to announce the release of our Gen II GTX2860R, GTX3076R Series turbochargers. The GTX Gen II line received a major compressor wheel aero update that gives it the ability to produce up to 20% more horsepower than the previous version.
Compressor wheel
GTX Gen II compressor wheels were designed using proprietary Honeywell computer simulation technology focusing on CFD analysis to optimize the wheel design to reach maximum efficiency and mass flow for each turbocharger. Each GTX Gen II turbocharger has the ability to create more air mass flow, offering enthusiasts a wider range of power output when tuning the vehicle. The 8mm dual ceramic ball bearing cartridge provides optimal turbo response and reliability through its reduction in shaft motion.
Compressor housing
The Gen II GTX Series Turbochargers feature a fully-machined compressor inlet, fully-machined compressor outlet, and fully-machined ported shroud.
The new compressor housings are equipped with a fully machined speed sensor port that accepts the Honeywell Garrett speed sensor (Sold separately). This feature allows tuners to understand existing operating conditions, which is important when fine tuning a turbocharger to its most efficient operating conditions. The speed sensor port comes plugged from the factory and can be removed using a 5mm allen key when ready to install a speed sensor kit.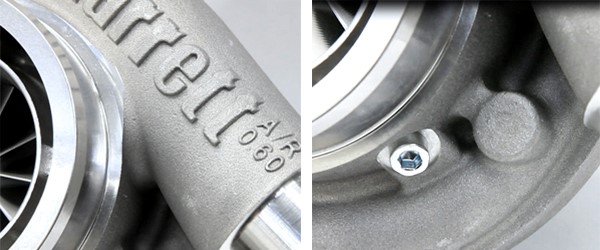 Turbine housing
All Gen II GTX series turbochargers are compatible with existing GT and GTX turbine housings kits. 
Be first to write a review about this product!
Your review:
To send a review, you must be logged in.