Engine mount BMW E36 / E46 - 1JZ / 2JZ
Andersson Steel Speed
---
Engine mount BMW E36 / E46 - 1JZ / 2JZ
Top quality rigid engine mounts to fit a 1JZ or 2JZ engine in your BMW E36 or E46.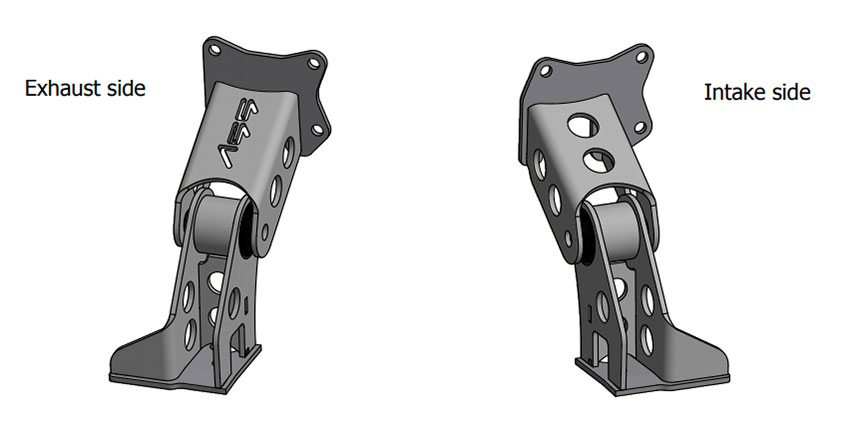 These Engine mounts fit perfectly and can handle all the power you possibly can produce.
Engine mounts are manufactured to fit engines with an oil pan located rear of the engine.
The bolt pattern is made to fit 1JZ and 2JZ GE and GTE.
The 1JZ and 2JZ engines need one straightforward modification to fit in the E36 or E46.
Make room between the front trail beam and the engine oil pan by cutting and welding the corners or just hammer it in a few millimeters. The extra space needed is just for engine and chassi flex to avoid engine and front beam interference. The modification is only needed for the oil pan corners.
Mounting hardware included
A set of engine mounts include:
Zinc iron chromated and black-passivated 5mm High strength steel brackets
Rigid bushings made from the most suitable material
All screws and nuts needed for proper installation

----------------
Guides & Info
Snabb leverans + att det var kanonsmidigt att bara köpa dessa färdiga utan att behöva svetsa egna. Jag har lite annat att göra istället för att få i motorn så att säga. Prismässigt blir det nog fasiken tom billigare att köpa färdiga !?
Passade rakt på utan strul. tumme upp!
Bolt-on med snabb leverans!
Your review:
To send a review, you must be logged in.